Fergus, far be from me to try and put you off a set of recordings by Harnoncourt of all people but...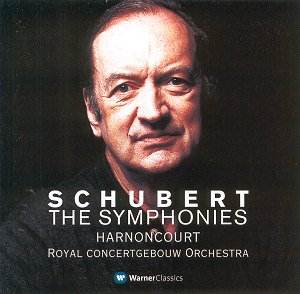 Franz Schubert
Symphony No. 9
Royal Concertgebouw Orchestra
Nikolaus Harnoncourt
I listened to the Harnoncourt take on the Great. In parts, particularly in the first and second movement I really liked it, however, it's when he gets to the (slow) Scherzo at a length of 14 minutes (compared to my bench mark recording by Solti/VPO at 10 minutes) that I feel that the symphony really drags. The fourth movement is played at a good tempo but again it is too restrained. It doesn't sweep me up like Bohm, Solti & Szell do. This is definitely not my first choice of the Ninth. I expect that others will differ though.