Posts: 5706
Joined: Sun May 29, 2005 7:06 am
Location: Cleveland, Ohio
---
Posts: 5706
Joined: Sun May 29, 2005 7:06 am
Location: Cleveland, Ohio
---
I just listened to that yesterday! A stunning recording, in excellent sound, done to perfection. Carol Neblitt's agent who discovered her was a client of mine during ethe 1980's (He and his wife had retired to live in the Dominican Republic of all things, and they used to stay at the NYAC when they came to town). He was very bitter about Neblett who left him when she achieved success, and told tales I won't repeat here.
---
Posts: 5706
Joined: Sun May 29, 2005 7:06 am
Location: Cleveland, Ohio
From an oop
ASdisc
CD
Götterdämmerung, act III (complete)
2. Frau Sonne sendet lichte Strahlen 6:05
3. Ein Albe führte mich irr 19:55
4. MIme hieß ein mürrischer Zwerg 9:07
5. Brünnhilde, heilige Braut! 3:55
6. Orchesterzwischenspiel - Trauermusik 10:05
7. Siegfried - Siegfried erschlagen 5:00
8. Starke Scheite schichtet mir dort 18:10
Astrid Varnay Brünnhilde
Ramon Vinay Siegfried
Lubomir Vichegonov (Luben Vichey) Hagen
Clifford Harvuot Gunther
Lucine Amara Gutrune
Herta Glaz/Rosalind Elias/Shakeh Vartenissian Die drei Rheintöchter
New York Philharmonic Orchestra
Dimitri Mitropoulos
---
That was the performance of October 30, 1955. As far as I can tell, it's the only time Mitropoulos conducted this music, and for all the effort of preparing it, they gave only the one performance. The concert began with the Forest Murmurs from "Slegfried" and then on to "Götterdämmerung" after a brief pause. No chorus is credited in the program, though Act 3 of "Götterdämmerung" calls for it; is a chorus audible or did they just leave it out?

According to the program, New York mayor Robert Wagner proclaimed this "New York Philharmonic-Symphony" week, but while this has every appearance of being a gala, the program doesn't say so.
John Francis
---
Posts: 5706
Joined: Sun May 29, 2005 7:06 am
Location: Cleveland, Ohio
Yes to 30 Oct 1955. No to any chorus I can hear.
In a labor of love by a Symphonyshare member, this
ASdisc
rip of the transcription was painstakingly de-noised by hand, click by click and scratch by scratch, so as not to alter the underlying music. The sound is pretty good for that era.
Another member of that forum wrote:
"[Luben] Vichey [Hagen] had a long career at the Met, from a Sparafucile in RIGOLETTO in December 1948 to the Friar in DON CARLO in November 1965. I just missed hearing him when I started going to the Met in 1964-65."
Unsurprisingly, Mitropoulos' PSONY, esp. the brass, play beautifully; his conducting is, as usual, imaginative.
1955.10.30, Wagner
by
jserraglio
, on Flickr
ASdisc 549
by
jserraglio
, on Flickr
---
Posts: 5706
Joined: Sun May 29, 2005 7:06 am
Location: Cleveland, Ohio
Gustave Bret: Fauré Requiem (rec. 1929-1930)
QTD material with slight revision and acknowledgement to the Symphonyshare forum member who did this restoration:
The first complete recording of the Fauré Requiem, a performance by the French conductor, composer, organist and critic Gustave Bret (1875-1969). He studied with Charles-Marie Widor and Vincent d'Indy, and was an organist at the Saint-Sulpice church in Paris. He was the first to perform all organ compositions by César Franck in 1903-1904. Bret composed an oratorio, Les Pélerins d'Emmaüs, the premiere of which took place in 1903 in Amsterdam.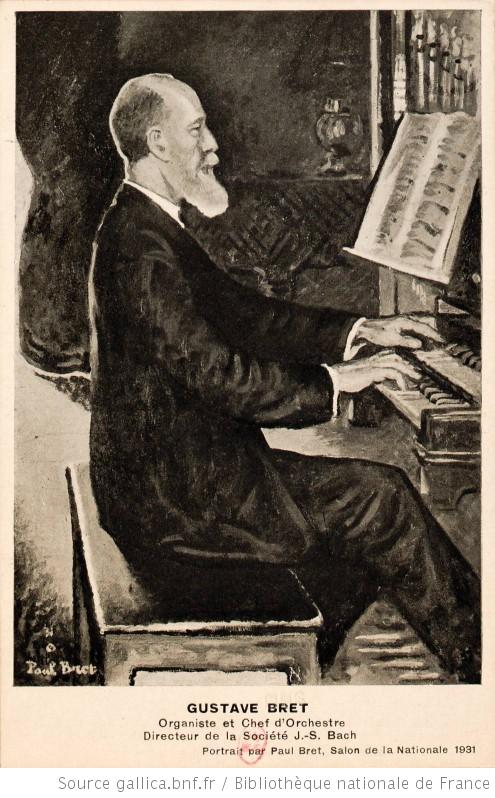 Choeur et Orchestre de la Société Bach
Gustave Bret, cond.
Louis Morturier (1888-1969): baritone
Fanny Malnory-Marseillac (1887-1979): soprano
The organist is Alexandre Cellier (1883-1968). He was organist of the Temple de l'Étoile in Paris from 1910 until his death. Cellier also composed organ music and chamber music.
78rpm 30 cm
Disque Gramophone W 1154-8
Recorded: 1929-1930
---
---
Who is online
Users browsing this forum: No registered users and 29 guests