I've provided a few photos if you can't get to the article-Wagner and some newer operas. Regards, Len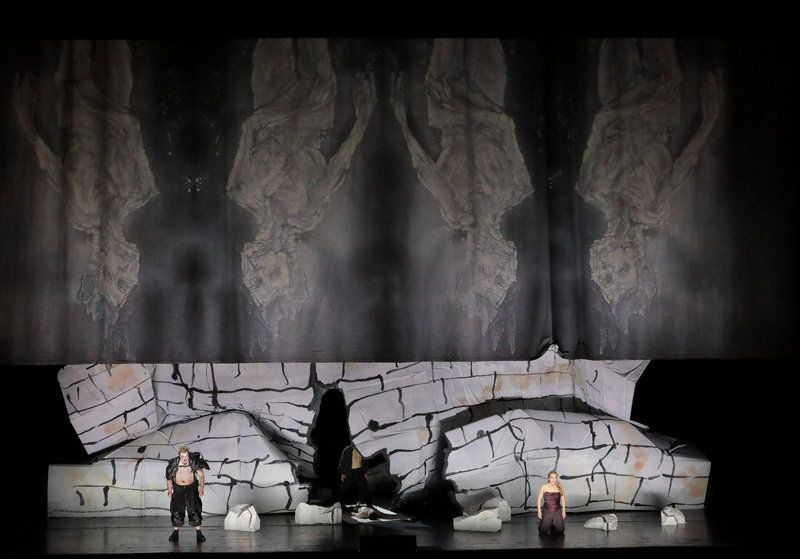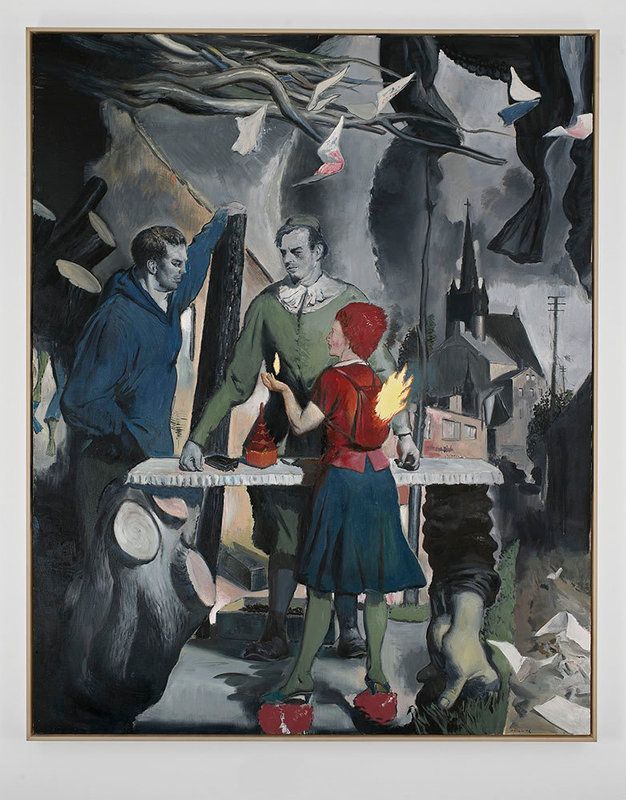 Painting Wagner: Celebrated Artists' New Work for the Opera Stage
By A.J. Goldmann
July 13, 2018
MUNICH — From Pablo Picasso to David Hockney and from Jean Cocteau to Marc Chagall, celebrated painters and visual artists have worked their magic on the operatic stage.
This summer, some of Germany's most noted artists are lending their talents to two high-profile productions at prestigious music festivals. In late June, Georg Baselitz furnished somber and mournful sets for Pierre Audi's production of "Parsifal" at the Munich Opera Festival. Meanwhile, in Bayreuth, the husband-and-wife artist duo, Neo Rauch and Rosa Loy, are working on the new "Lohengrin" overseen by the American director Yuval Sharon, which is set to open the annual Wagner Festival on July 25.
While it may be coincidental that two "painterly" Wagner productions are going up within a month — and 140 miles — of each other, these are not isolated occurrences. More and more, artists from outside disciplines are being coaxed to opera, perhaps as a way to keep the art form vital and contemporary.
Last year's Salzburg Festival featured new productions from William Kentridge and the Iranian film and video artist Shirin Neshat. The German enfant terrible Jonathan Meese, fired from directing Bayreuth's "Parsifal" in 2016, recently staged his irreverent, B-movie rewrite of that work in Vienna and Berlin under the name "Mondparsifal." Further back, the American video artist Bill Viola designed a now-legendary production of "Tristan und Isolde" for the director Peter Sellars in 2005.
"Working together with artists is a great love of mine and I think the opera needs them," Mr. Audi, 60, said during a rehearsal break from "Parsifal" at the Bavarian State Opera, shortly before the production's premiere. "Virtually everything's been done in opera with sets and an artist can help bring things that stage designers can't bring," he added. For 30 years, the French-Lebanese director has led the Dutch National Opera, often collaborating with artists from various disciplines. The list of artists he has worked with over the past decade includes Mr. Meese, Mr. Kentridge and the British artist Anish Kapoor, who designed an earlier "Parsifal" in Amsterdam.
He insisted that the best collaborations are the ones that develop organically from friendships with artists. "For me, it needs to stay like that," Mr. Audi said. "You must never force it."
In the case of the Munich "Parsifal," the Bavarian State Opera's artistic director, Nikolaus Bachler, courted Mr. Baselitz, 80, one of Germany's most revered artists. Mr. Baselitz, an avid operagoer and frequent guest at the Bavarian State Opera, proposed teaming with Mr. Audi, with whom he worked 25 years earlier to design a production of "Punch and Judy" by the British composer Harrison Birtwistle.
"It was a totally different period of his life where he was using many more colors, which suited that piece," Mr. Audi explained. "And now, it's 'Parsifal,' but it suits his current period. But he's also gone further back to his work from the '60s to fill in. It's like a sort of remembering of a whole lifetime."
One of those touchstones is Mr. Baselitz's monumental "Heroes" paintings from 1965-6, hulking figures that seem to carry the weight of German history on their shoulders. "Surprisingly, the 'Heroes' from my early pictures correspond directly to the figure of Parsifal," Mr. Baselitz wrote in an email. "But that's something that only became clear to me while I was working on the production."
While Mr. Baselitz considers painting and opera natural allies, designing for the opera does require him to adjust his working habits, he said. "The main difference for me is that when I'm in my atelier, I work all alone," he added. "Clearly that doesn't work in opera. You can introduce your ideas, but they need to be practical."
Aside from making viable artistic proposals, Mr. Baselitz said that working in opera required being open to compromise. "My original idea for the set was a black box and nothing else," Mr. Baselitz explained. "Nothing much needs to happen during this opera. What I would like most would be for the audience to just sleep through the whole thing. That would be amazing! But of course that would go against everything that the director is there to do. So sadly I wasn't able to get my way."
Unlike Mr. Baselitz, the two artists behind the stage design of Bayreuth's new "Lohengrin" are not opera fanatics. Nor had Neo Rauch, a leading exponent of the New Leipzig School of Painting and his wife, Rosa Loy, also a noted artist, collaborated on an art project with joint authorship before working at Bayreuth.
Bayreuth maintains strict secrecy over the details of its new productions but The Times was granted a rare peek behind the scenes during a rehearsal for the second act. The gently moving backdrops, painted deep delft blue, looked like they had sprung from a sumptuous picture book.
"We usually prefer our music pure, without decorative frills and without visuals," explained Mr. Rauch, 58, in an interview in the Bayreuth opera house's backstage beer garden. "I let the music operate on me directly and immediately and close my eyes. There's a danger that you might fall asleep for a moment. But then these inner pictures arise at the moment when perception fades away."
"I waited to see what this music evoked and what it conjured up within me," he said. "It's a sort of assisted dreaming. A continuation of dreaming by other means."
Like Mr. Baselitz, Ms. Loy, 60, said she felt that the collaborative aspect was key to the success of their project. "Opera is a Gesamtkunstwerk, after all," she said. "And that's what we're all striving toward." In addition to working cheek to jowl for the past six years, the artist couple has opened up their creative collaboration to Mr. Sharon, the first American director to work at Bayreuth.
"Looking at their designs, I felt I could immediately hear this music," explained Mr. Sharon, 39. "It was clear that they were the product of a very honest and intuitive process."
"Nothing was forced," the American director said, adding that his work with the artists was an active and engaged process.
"They could have just delivered the designs and gone home, but they're still here," he said. "They're willing to stay flexible to make sure that it all works." While in Bayreuth, all three are sharing a house a few miles from the opera house. Sitting around a beer garden table (joined by Ms. Loy's pug, Smilla), they clearly had an easygoing and familiar rapport.
Sometimes the suggestions come from outside. For instance, they welcomed advice from Christian Thielemann, Bayreuth's musical director, who will conduct "Lohengrin," based on his knowledge of the house's unique acoustics. "What good is a wonderful set when no one can hear the singers?" Ms. Loy asked.
Mr. Rauch said that he and Ms. Loy were "not cerebral artists."
"I always say that my concept is never to have a concept," he said. "That's actually the very best thing one can do in order to receive inspiration."
"We're participating in the great Romantic project of the re-enchantment of the world," Mr. Rauch continued, wearing a black polo shirt flecked with orange and white paint. "We're taking up this game, this unfinished project that the Romantics left towering over time and space. We're taking over where they left off."
Mr. Sharon said he was glad to work on a production that left room for the opera's magical element. "I think that that fairy-tale aspect, which is so strong in this piece, needs to remain, even if you want to treat it critically," he said.
In their paintings and graphic work Mr. Rauch and Ms. Loy often mix modern and archaic elements, and they will carry this over to their work in Bayreuth, Ms. Loy said. "We're actually taking a fairly old-fashioned, painterly approach to the stage design while using state of the art technology," she said. "We like being able to show both the perspective of Wagner's time as well as a contemporary point of view."
Mr. Rauch added: "This world of backdrops that we developed, with this two-dimensionality, is quite anachronistic and almost looks like it has been devised for a provincial theater. But even with all of that, we hope to cast a spell over the audience."
For artists who have never before worked for the operatic stage, could this experience give new impulses to their work? "We shall see," Ms. Loy said, smiling. "It's delightful and even inspiring to see your images become three dimensional, and the figures you've only known as pictures begin to move and sing so magnificently."
I
If a painter's designs can wind up on the opera stage, it is perhaps not surprising when that work finds it way back to the museum. At the "Corpus Baselitz" exhibition currently on view in Colmar, France, one finds paintings of the same falling bodies reproduced on the curtains for the Munich "Parsifal" are on view. And a recently opened show at the Neo Rauch Graphics Foundation in Aschersleben, Germany, exhibits for the first time works the artist has made with Ms. Loy. (These may hold a visual clue to how their "Lohengrin" will look.)
But while art used in an operatic production can be exhibited in a gallery, Mr. Audi, the "Parsifal" director, said artists needed to think about both differently. "Just asking a visual artist to design is not enough," he said.
"Those objects are coming on the stage," first and foremost, he said. "Not in a gallery."
https://www.nytimes.com/2018/07/13/arts ... ic-reviews