The NY Times This Week in Classical Music has various quotes concerning opera and classical music and begins with a photo of Asmik Grigorian, right, as Salome (with Julian Prégardien) at the Salzburg Festival, which continues through Aug. 30. Regards, Len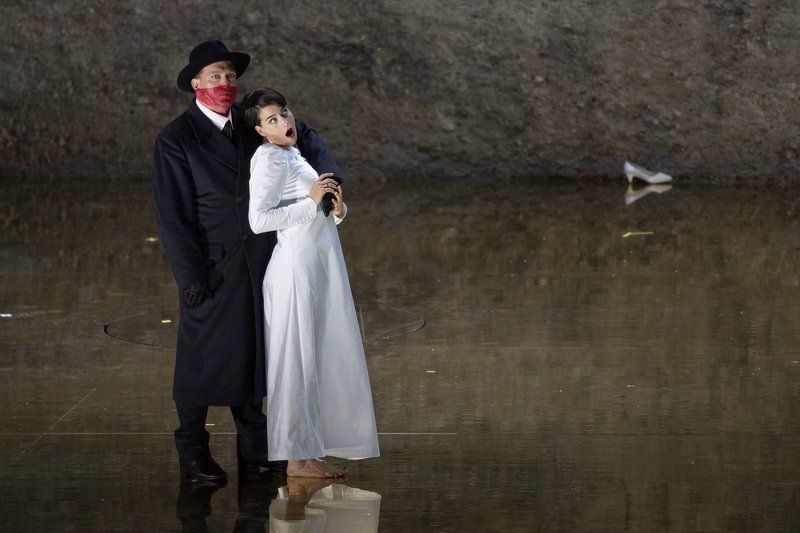 that decisive moment
Aretha's Operatic Triumph: The Week in Classical Music
Aug. 17, 2018
Dear classical listeners! Like many of you, I suspect, I spent Thursday in a rabbit hole of Aretha Franklin music and YouTube videos. (It seemed like the only way to mourn the "Queen of Soul," who died on Thursday at 76.)
In the process I revisited one of her greatest and most unusual performances: when she filled in, at the 11th hour, for an ailing Luciano Pavarotti at the 1998 Grammy Awards. She sang "Nessun dorma" from Puccini's opera "Turandot" — a kitschy aria so overdone it was even used by President Trump on the campaign trail in 2016.
Yet Ms. Franklin made it her own. Her rendition of the aria, recorded live for this album, isn't opera, but it also isn't soul or anything easily definable. It is, simply, Aretha. JOSHUA BARONE
Quotable quotes:
"Opera, again and again, shows us women trying to find their way in a world dominated by men." — ANTHONY TOMMASINI, from Salzburg, on productions of "L'Incoronazione di Poppea," "Salome" and "L'Italiana in Algeri"
"I came out of the show a proselytizing convert to the music of Linda Catlin Smith." — SETH COLTER WALLS, from New York, on the Time Spans festival
"I think people of my race ought not to be shut out in this way." — SISSIERETTA JONES, a pioneering black opera singer, who has received a long overdue New York Times obituary courtesy Michael Cooper
Rimsky-Korsakov is nothing less than "the most underrated composer in history." — RICHARD TARUSKIN, the eminent musicologist, at the Bard Music Festival, quoted by Corinna da Fonseca-Wollheim in her essay on the festival
"Rimsky-Korsakov and His World" is the focus of the Bard Music Festival, which continues this weekend with a multifaceted reappraisal of this Russian composer, who in the West is known only for a tiny fraction of his output. The concerts and lectures I attended last Saturday and Sunday gave me a new understanding of the forces shaping Russian music at the time, even if I did not come away agreeing with Mr. Taruskin's verdict, quoted above.
What did seem shockingly underrated was the Fourth Symphony by Sergei Taneyev, which the American Symphony Orchestra performed under the direction of Leon Botstein. Written in 1901, it's an alluring synthesis of Eastern and Western European styles, with lush melodies woven into a dense score of Brahmsian heft. Taneyev studied composition under Tchaikovsky and there is something of that composer's succulent flow in the first movement, which opens with a fanfare of dark majesty that is answered, about 1:26 in, by a gorgeous, waltzable cello tune. CORINNA da FONSECA-WOLLHEIM
It's not the first time Mr. Botstein and Bard have championed Taneyev; they did his mighty opera "Oresteia" in 2013.
And Dmitri Hvorostovsky, the beloved Russian baritone who died last year, sang five of his elegant songs at a Carnegie Hall recital in 2011.
Facebook isn't always a social or individual good, but it's been invaluable over the years in making connections with music new to me. I'm friends on the platform with the composer Anthony Cheung, who this week posted a link to the guitarist and composer Miles Okazaki's surprise new recording, for guitar solo, of the Thelonious Monk songbook. Listening to these is such an intimate, warm, enigmatic, playful, gentle experience; I'm still working my way through them. Here's his gorgeous rendition of "Ugly Baby":
It's apparently the first time that these songs have been recorded complete for a solo instrument. But a comment on Anthony's Facebook post shared the intriguing news that Jed Distler is currently at work on the same project for piano. Now that's the kind of arms race I can get behind. ZACHARY WOOLFE
https://www.nytimes.com/2018/08/17/arts ... utube.html