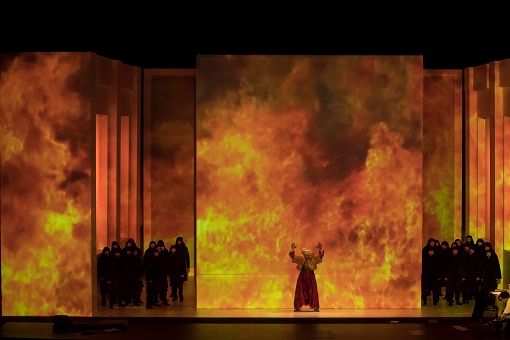 We saw this opera for the first time in the comfort of our own home on the big TV screen c/o Roku and You Tube-kind of disappointing. This production from Valencia's impressive looking Palau de Les Arts Reina Sofia had proper costumes and appropriate sets but was a little confusing-the singing was good enough. Having Byron on stage was distracting. Corrado doesn't jump off any cliff at the end either. It's not a great opera either but you do hear Verdi's musical style for sure with some nice arias. A final advantage of seeing it as we did was it was free! Regards, Len
I like this review of the production:
"Raab attempts to circumnavigate the plot by having Byron himself play the title role. This is a cunning device, given Byron's active involvement in the Greek War of Independence against the Ottoman Empire, dying just before he was due to lead an attack on the fortress of Lepanto. Michael Fabiano, as the poet, sits at a writing desk, paces the stage, wrings his hands and clenches his fists as he enters a tortured flashback. It's Raab's one big idea, but she doesn't always know how to sustain it. The thorny problem with first person narrative novels is how can the author narrate the bits he/she isn't in? Raab has the same problem here: what to do with Corrado when he's not involved in the action? So when the cannon signals the pirates' imminent departure, does our pirate hero dash off to lead them? No. He returns to his desk and resumes scribbling. And Byron's presence at the start of Act 3 seriously upstages the Pasha's solo scene.
https://bachtrack.com/review-verdi-cors ... march-2018
Wiki says:
"When discussing the qualities of Byron's poetry in comparison with how Verdi treated it musically, Julian Budden points to one obvious problem: the opera "hardly makes for music-drama [because] it is a narrative. Not being conceived of in dramatic terms it offers no opportunity for the generation of musical power through conflict and clash of personalities."[17] He compares it unfavourably with "the steady crescendo of dramatic interest" in Ernani, or the "cut and thrust of character dialectic that informs I due Foscari and "without the sense of grand theatre that transfigures the great moments in Giovanna d'Arco and Attila. David Kimball (in Holden) also describes it in comparable terms, emphasizing that "after the weightiness of the three previous three operas [... it] seems a light, sketchy piece." But he does note that Verdi was "designing arias more imaginatively".[10] Of interest is the caution given by Roger Parker for us to be aware that the dramatic structure of the opera was finalized in 1846, before Macbeth, and therefore this might be a reason for regarding the opera as old-fashioned.[18]"