Steve Bannon and U.S. ultra-conservatives take aim at Pope Francis
https://www.nbcnews.com/news/world/stev ... is-n991411
By Richard Engel and Kennett Werner
VATICAN CITY — Strolling through St. Peter's Square, the heart of the Roman Catholic Church, Steve Bannon surveyed the enemy camp.
The populist political consultant has a new target in his crusade against "globalism" — Pope Francis.
"He's the administrator of the church, and he's also a politician," said Bannon, a former adviser to President Donald Trump. "This is the problem. ... He's constantly putting all the faults in the world on the populist nationalist movement."
Since becoming pope in 2013, Francis has expressed a consistent message on the type of "America First" nationalism championed by Bannon.
Two years ago, the pope cautioned against growing populism in Europe, warning it could lead to the election of leaders like Hitler.
He has called for compassion toward migrants, saying that fearing them "makes us crazy," as well as other marginalized groups including the poor and gay people. He has also defended diversity.
Bannon alleges that Francis has mismanaged numerous sex abuse scandals roiling the church, and says the pope is not treating the issue seriously enough.
"The Catholic Church is heading to a financial crisis that will lead to a bankruptcy," he said. "It could actually bring down, not the theology, not the teachings, not the community of the Catholic Church, but the physical and financial apparatus of this church."
In a speech ending a landmark Vatican conference on the issue of clerical sexual abuse in February, the pope vowed to "decisively confront the phenomenon," adding: "The church will never seek to hush up or not take seriously any case."
Every abuse is an atrocity. In people's justified anger, the Church sees the reflection of the wrath of God. It is our duty to listen attentively to this silent cry. #PBC2019

https://t.co/Gx9M9MgzTX

— Pope Francis (@Pontifex) February 24, 2019
But Bannon is not alone in criticizing the pontiff. A raft of conservative Catholics, from bishops to lay theologians to firebrand pundits, have attacked Francis.
They were supporters of Francis's traditionalist predecessor, Benedict XVI, who unexpectedly resigned in 2013. On Thursday, Benedict published a letter outlining his views on the sex abuse crisis. "The crisis, caused by the many cases of clerical abuse, urges us to regard the church as something almost unacceptable, which we must now take into our own hands and redesign," he wrote.
Bannon has found an ideological ally in conservative Cardinal Raymond Burke, a former archbishop of St. Louis who was demoted by Francis and has supported calls for the pope's resignation.
Burke and Bannon reportedly met at the Vatican in 2014 and are both involved in building an incubator for budding right-wing ideologues in Italy. Bannon described the project as "an academy that brings the best thinkers together" to train "modern gladiators."
Other American theologians have openly attacked Francis for "devaluing the doctrines of the church."
The center of the anti-Francis backlash is in the U.S., according to Massimo Faggioli, a liberal professor of theology at Villanova University. "There is no question about that," he said.
Francis, the first pope from the Southern Hemisphere, was a trailblazer and an outsider from the start, and the elevation of an Argentine brought a new "geopolitical perspective" and priorities to the papacy, Faggioli said.
While Benedict saw Catholicism's future squarely within the Western world, Francis has espoused a vision of "global Catholicism" in which issues of social justice are paramount.
He has turned support for the poor and the environment into the key issues of his pontificate, while warning against consumerism and unfettered capitalism.
Francis has set precedents by condemning the death penalty in all cases and signaling that divorced and remarried Catholics should be able to receive Communion.
John Carr, director of the Initiative on Catholic Social Thought and Public Life at Georgetown, said this reformist impulse has rankled church traditionalists. Accustomed to favorable treatment from the Vatican, many American Catholics saw themselves sidelined by Francis' progressive agenda.
"If you're an archbishop living in a big house with a big car and he says you need to have the smell of the sheep, that's threatening," Carr added. "He looks at the world from the bottom up and from the outside in. If you're on top, if you're an insider in the church, in the economy, in politics, he can threaten you."
The backlash has been swift. Weeks after Francis's election, Archbishop Charles Chaput of Philadelphia, a prominent conservative, announced that members of the right wing within the church had "not been really happy."
Robert Sirico, the founder of the Acton Institute, a Michigan-based think tank, considers Francis to be sympathetic to socialism.
"His dominant understanding of what business is is selfish and doing things to benefit only themselves rather than the poor," said Sirico, who met Francis in 2013.
The Acton Institute's mission is to integrate free market principles with Christian theology, and Sirico disagrees with the pope about issues including welfare, taxation and climate change.
While both Sirico and Bannon say they don't believe the pope should step down, others go further.
They have adopted an extremist, "take-no-prisoners" approach unlike any opposition to John Paul II or Benedict, according to Faggioli.
The Vatican's former ambassador to America, Archbishop Carlo Maria Viganò, wrote a letter last August claiming that Francis had covered up misconduct by Theodore McCarrick, a disgraced ex-cardinal.
"Homosexual networks" within the clergy, Viganò wrote, were responsible for the high incidence of abuse and were "strangling the church." The Vatican has not commented on Viganò's allegations.
To moderate and liberal Catholics, such weaponization of the sex abuse crisis is aimed at undermining Francis.
His critics want to tarnish "the affection people have for him as pope," according to Carr.
"The irony is that they don't have any particular history of standing up for victims and in some cases were allies of those who were involved in the crisis," added Carr, who is himself a survivor of clerical sexual abuse.
The Vatican did not respond to requests for comment by NBC News.
Richard Engel reported from Vatican City, and Kennett Werner from London.
_____________________________________________________________
The Guardian
Steve Bannon 'told Italy's populist leader: Pope Francis is the enemy'
Trump's ex-strategist advised Matteo Salvini 'to target pontiff's stance on plight of refugees'
https://www.theguardian.com/world/2019/ ... -the-enemy
Donald Trump's former chief strategist Steve Bannon advised Italy's interior minister Matteo Salvini to attack the pope over the issue of migration, according to sources close to the Italian far right.
During a meeting in Washington in April 2016, Bannon – who would within a few months take up his role as head of Trump's presidential campaign – suggested the leader of Italy's anti-immigration League party should start openly targeting Pope Francis, who has made the plight of refugees a cornerstone of his papacy.
"Bannon advised Salvini himself that the actual pope is a sort of enemy. He suggested for sure to attack, frontally," said a senior League insider with knowledge of the meeting in an interview with the website SourceMaterial.
After the meeting, Salvini became more outspoken against the pope, claiming that conservatives in the Vatican were on his side. One tweet from Salvini's account, in May 2016, said: "The pope says migrants are not a danger. Whatever!" On 6 May 2016, Salvini, after the pope's plea for compassion towards migrants, stated: "Uncontrolled immigration, an organised and financed invasion, brings chaos and problems, not peace."
The claims coincide with suggestions that Bannon's pan-European populist project, the Movement, has stalled. Meanwhile, Salvini has announced that he wants to bring the far right from across Europe into an alliance. Last Monday in Milan, he unveiled his "vision of Europe for the next 50 years", billing it as the launch of a new rightwing coalition for the European parliamentary elections on 23 May. Salvini unveiled his alliance only days after meeting Bannon in Rome in March. This led some to believe that Bannon has handpicked Salvini as the informal leader of Eurosceptic, populist forces in Europe.
The pair also met in Rome six months ago, prompting Mischaël Modrikamen, the Movement's managing director, to tweet that Italy's deputy prime minister "is in!"
Bannon, in an interview with NBC and SourceMaterial to be broadcast at 9pm eastern time in the US on Sundayon , also takes issue with the pope's warnings over resurgent populist movements. "You can go around Europe and it's [populism] catching fire and the pope is just dead wrong," said Bannon.
Following the September 2016 meeting between Salvini and Bannon, the League leader was photographed holding up a T-shirt emblazoned with the words: "Benedict is my pope."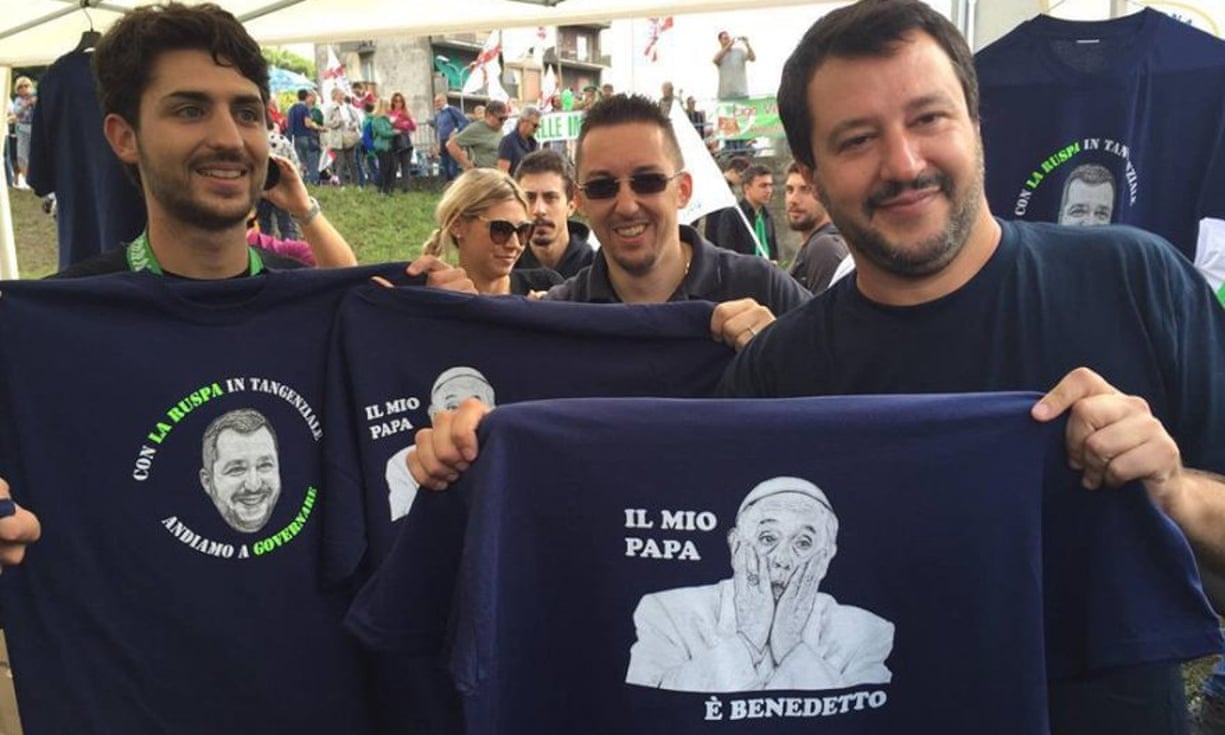 The slogan refers to a Vatican version of the "birther" campaign waged by Trump against Barack Obama, claiming that Francis's papacy is illegitimate and that his ultra-conservative predecessor Benedict XVI is in fact the true pontiff.
The League source also alleged that Salvini would have attacked the pope harder but was restrained by his own party, predominantly by Giancarlo Giorgetti, the deputy federal secretary of Lega Nord who is close to senior figures in the Vatican.
"[After the Bannon meeting] Salvini moved very tough and said: 'We have to attack the Vatican, but the other guy said wait.' Salvini thinks by himself and acts by himself ... so he started to act [for example, by appearing with the 'Benedict is my Pope' T-shirt]," said the source.
Bannon has steadily been building opposition to Francis through his Dignitatis Humanae Institute, based in a 13th-century mountaintop monastery not far from Rome.
In January 2017, Bannon became a patron of the institute, whose honorary president is Cardinal Raymond Burke, an ultra-conservative who believes organised networks of homosexuals are spreading a "gay agenda" in the Vatican.
The institute's chairman is former Italian MP Luca Volontè, on trial for corruption for accepting bribes from Azerbaijan . He has denied all charges.
Among the institute's trustees is one of the pope's most outspoken critics, Austin Ruse, a former contributor to rightwing news website Breitbart. Ruse runs C-FAM, an anti-abortion group whose founder was prone to antisemitic rants about population control and which has been termed a hate group by human rights campaigners. Like Volontè, Ruse is an official of the World Congress of Families, a gathering of far-right, anti-gay Christian groups backed by Konstantin Malofeev, a Russian oligarch close to Vladimir Putin.
Other trustees include Ben Harris-Quinney, chairman of the Conservative thinktank the Bow Group, who met Bannon in London last summer, alongside Raheem Kassam, the former UK editor of Breitbart. Bannon was a founding member of Breitbart's board.
Bannon was invited by the Observer to respond but at the time of publication had not yet replied.