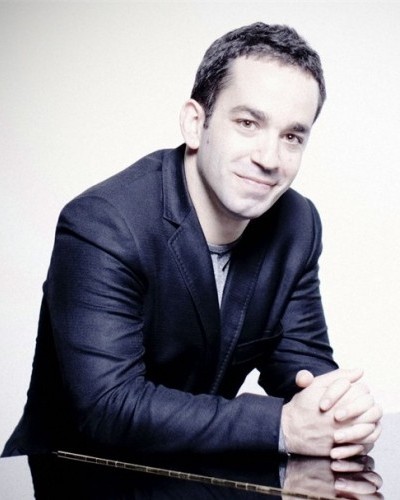 Inon Barnatan, pianist
Music@Menlo
Inon Barnatan
By Gary R. Lemco
Music@Menlo inaugurated its first Winter Series with a fine piano recital by Israeli-born Inon Barnatan, a gifted colorist, a pupil of Victor Derevianko, himself a pupil of the legendary Heinrich Neuhaus. The 4:00 p.m. concert at The Center for Performing Arts at Menlo-Atherton found a most responsive audience, some of whom applauded too quickly after the music, obliterating anything like a thoughtful fermata within which we might bask in wonder.
Barnatan's program, entitled "Darknesse Visible," took its literary rubric from John Milton's "Paradise Lost," a conceit that the fires of Hell give forth no light. Music by Debussy, Ades, Ravel, Britten, and Schubert provided the sources of illumination and angst that bound the pieces in their respective epiphanies. The 1992 Ades, piece, "Darknesse Visible," specifically exploits the Miltonic paradoxical image, while for Barnatan spoke most endearingly of the Andantino in Schubert's A Major Sonata, D. 959 as his personal moment of numinous insight.
Barnatan began his recital—offered as a kind of lecture-concert—with Debussy's familiar Suite bergamasque (1890) after the poem by French port Paul Verlaine. Something of Schumann's masked ball permeates the suite, although its most famous movement, Clair de Lune, projects a pure image of nocturnal tranquility. Barnatan's uncanny control of keyboard dynamics asserted itself from the outset, his taking the Prelude at a broad, luxurious tempo that reveled in Debussy's modal progressions. Both the Menuet and concluding Passepied danced in pearly play, lending an air of antique beauty to Debussy's idiosyncratic homage to the Baroque spirit cross fertilized by an ardent romanticism.
The least successful piece of the evening, the Thomas Ades (b. 1971) "Darknesse Visible" (1992) takes a 1610 John Dowland song, "In Darkness Let Me Dwell," and transposes its notes and rhythm to various registers of the keyboard, often by octave displacement. This pointillist treatment pulverized the original into tone clusters and discrete moments in time, a leftover of the Webern or Babbitt aesthetic that sucks the melos out of music and leaves an intellectually vapid husk. Perhaps the music of Ligeti provides some model for this music, but I could detect little of that composer's Byzantine atmosphere in this ugly opus. A nervously polite applause followed this piece, happily having lasted a mere seven minutes.
But hard upon the Ades came Ravel's beguiling and dazzling tour de force, Gaspard de la Nuit (1908) after the poems of Aloysius Bertrand. Ravel wrote the piece to compete in difficulty with Balakirev's "Islamey," and both works defied their composers' efforts to perform them. The liquid "Ondine" shimmered and cavorted in eruptions of light and shadow, Barnatan's touch a minor miracle of graduated sound and pedal, especially in his diminuendi and cascading runs. The obsessive "Le Gibet," an unholy vision of hanged corpse's rotting in the glow of sunset, maintained a fine tension as its ticking B-flats seemed to adjust to each twist in the gallows knot, each hue from the bells tolling in the illuminating sun. Finally, in the spirit of both Liszt and Mussorgsky, we beheld the ghastly dwarf or incubus "Scarbo," a vestige of Fuseli's "The Nightmare." That Barnatan could project infinite degrees of soft tissue and then explode meteorically and contrapuntally quite ravished us with the range of his percussive or strummed firepower.
The second half offered a Lisztian "reminiscence" from Ronald Stevenson (1972) based on Benjamin Britten's opera
Peter Grimes
, based on a poem by George Crabbe. The rather gothic tale of accidental death and mob-driven suicide had Barnatan's rendering a feverish fantasia of percussive and dark themes that soon his reaching into the strings of his piano to effect the last of the famous Sea Interludes. Finally, the Schubert A Major Sonata, op. posth., D. 959 (1828), a predominantly optimistic large-scale canvas that contrasts with its tragic, F-sharp Minor pensive fervor in the Andantino. Barnatan's was an Apollinian vision of the huge work, luxuriant in long lines and plastic rhythms. His fingers seemed to breeze on the surface of the keyboard while releasing an unending flow of melody, especially unique in Schubert's developing themes based on degrees of the E Major triad in the first movement. The fateful descent into C-sharp Minor in the Andantino—with its gloomy Bach toccata figures—brought out a demonic element in this otherwise resigned and almost Keatsian ode to the consolations of mortality. Splendid cross-hand work in the trio of the skittering Scherzo kept us rapt in Barnatan's deft control; and his last movement breezed in relentless triplets until the fateful chords of the coda, with their commanding reminder of our inevitable confrontation of mortal will and inexorable fate. In sum, a grand tour by a young virtuoso whose palette might find an earlier avatar in Shura Cherkassky. ♪
_____________________________________________
Dr. Gary R. Lemco is a reviewer for
Classical Music
Guide
. He resides in California.