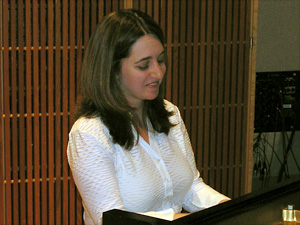 Simone Dinnerstein, pianist
Le plus que lente:
Simone Dinnerstein in Recital
By Gary Lemco
H
AVING TO REVIEW an artist with whom one feels little to no aesthetic kinship poses several problems for a writer, not the least of which is avoiding the look of simple vitriol or unleashed jealousy. But the singular "success" of Simone Dinnerstein's latest recital at the Carriage House Theatre, Montalvo, in Saratoga, California, Sunday, February 26, 2012 has my musical gears rummaging around to explain why, in the midst of all the cheering and spontaneous, standing ovations, I feel like a spoil-sport at an orgy.
Appearing the grand dame in her flowing ceremonial robes or veils, Ms. Dinnerstein offered a program of Chopin, Felsenfeld, Brahms, Schubert, and Bach, the major works' being the Schubert first set of Four Impromptus, D, 899. Ms. Dinnerstein has become the mistress of the slow tempo—assuming, perhaps that slow speeds indicate depth of thought—and that loudness substitutes for drama. From the outset, her Chopin Nocturne in D-flat Major, played very slowly, failed to support anything like dramatic tension in the evolving line, and her tone remained—for the entire evening—monochromatic; so much so, that the usual contrast of major and minor tonalities broke down.
The second selection, a special piece wrought for her by Daniel Felsenfeld (b. 1970) called "The Cohen Variations," took their theme from a Leonard Cohen song, "Suzanne" and submitted it to a series of homogenized variants meant as homage to Ms. Dinnerstein. The tonal center seemed to key around F, occasionally moving a fifth; but the procedure took on a minimalist aspect that soon became the kind of sewing-machine mechanism that plagued almost all of Dinnerstein's Bach. The Brahms Intermezzo in A, Op. 118, No. 2 had some lilt, but the constant pursuit of legato for its own sake revealed to me the lack of any aristocratic arch or pulsation in her musical line. In fact, I'd venture that we might construe Dinnerstein as the quintessential Biedermeier pianist par excellence, reducing most of the keyboard repertory to a plebian notion of consumable, "understandable" tidbits that can be appreciated without a refined taste.
The first Bach contribution, his Partita No. 2 in C Minor, BWV 826, suffered in several respects, including the slow tempos, which confuted a Courante with a Sarabande. The tendency to take Bach dance movements at cut or half tempo deconstructs much of their intent, and even grace notes lose their edifying character; ceasing to "ornament," they become anchors. If the continuity and melodic arch remain firm, a wrong note or passing dissonance has virtually no effect; but Dinnerstein's fussy approach to each sub-section any movement only exacerbates errors in tone or dynamic, and by the end of the program, the Partita No. 1 in B-flat Major, BWV 825, she had my sarcasm up to open heckling. The opening Prelude, at half speed, sounded picayune; the final Gigue became trite, the efforts of a gifted teenager trying to cover her mannerisms with yet another idiosyncrasy, an over-pedaled legato. If Dinnerstein did not break the line, she failed to break it when dramatic tension demanded it. The Sarabande derives as a form from an aristocratic Spanish tradition; it is not a moribund funeral dirge.
The Schubert occasionally gave us some lighter moments, although generally soon rendered too heavy for their own good. The C Minor retained some martial beauty; the E-flat had good motor elements in the outsides of its ternary form, but the middle sagged under its own weight. The G-flat became buried in molasses. The A-flat may have water elements and some bucolic leanings, but its grand cello melody almost collapsed from 'profundity' of expression: how did Nietzsche put it: "Death by Immortality."
That Ms. Dinnerstein moves in celestial (New York) circles far away from my spiteful remarks comes as no news. What befuddles and confounds me is how the sophisticates in music, and even among what passes as the dilettantes and cognoscenti, can extol and support such glaring violations of musical taste and tradition. But it could well be that my ears do not recognize "genius." I've had enough of it. ♫
Dr. Gary R. Lemco is a regular reviewer for
Classical Music Guide. He resides in California.