Dear CMG members,
Almost a year ago, I wrote the following thread
http://www.classicalmusicguide.com/view ... 10&t=32658
in which, thank to your good advices, I mentioned that I obtained a copy of Schubert's complete piano sonatas played by Wilhelm Kempff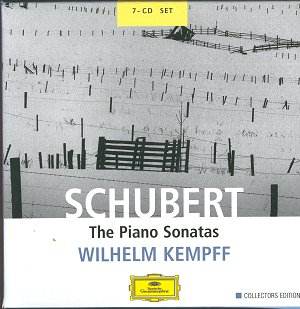 I could never say how great I find this box set and how much pleasure I had in discovering the piano sonatas of Schubert. What a fascinating journey I had to carefully listen to these pieces.
I highly value the opinion and knowledge of my friends on CMG and thought that I could ask you a few questions regarding the piano sonatas.
- Am I the only one here who really like these pieces and find a lot of them very deep ?
- Which sonata would you consider your favorite ?
- I really like the set of Kempff and I thought that I may now look for another complete set. Any recommendations ?
- Who is your favorite interpreter of Schubert's sonatas ?
- Any particular recordings of one or several of the sonatas that you would recommend ?
- In term of recent recording of these sonatas (say in the last 20 years), which ones would you recommend ?
- How would you rate Schubert's sonata versus the ones of Beethoven ? Inferior, similar, better ?
Thank you for reading me and for taking the time to share your thoughts with me.
All the best,
Matt.