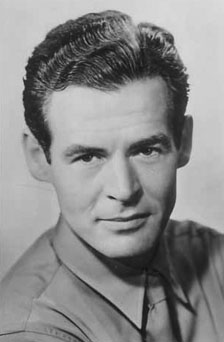 Robert Ryan
It took me a long time to really appreciate the acting abilities of Robert Ryan. Perhaps it was the kind of films he often appeared in illustrating the type of role that seemed to fit his physical image. He often played the role of a cop or a ruthless villain. Now I believe he did his job superbly well. Nonetheless, I always wanted to see his movies for reasons I don't know. Then I read his biography,
Robert Ryan: A Critical Biography and Filmography
by Franklin Jarrett in the 1990 reprint. (I missed the first edition.) It was wonderful displaying a man who was sensitive, down-to-earth, unpretentious, and all the general qualities that seem to make a fine human being.
Chicago-born in 1909, he died of lung cancer in 1973 at age 63 shortly after his one-and-only wife, which may have shortened his life when combined with his cancer.
In black-and-white, made in 1959 [118 minutes],
God's Little Acre
is based on the provacative best selling novel—
Forbidden Love in the Hot Georgia Sun
—which portrays primitive Georgia and its people, who are brought to life in this sadly comic tragedy. Poor white sharecropper (Robert Ryan) is totally convinced that a golden treasure lies hidden, buried somewhere on his land. As his impoverished family languishes, he spends years digging holes on this property rather than cultivating it. Warden's (Ryan) obsession with finding the easy answer to life's problems is reflected by those around him as they all seek their own impossible dreams. The film co-stars Tina Louise, Aldo Ray, Jack Lord, Vic Morrow, Helen Westcott, Lance Fuller, Michael Landon and others including Buddy Hackett, the latter of whom does a great acting job playing the role for those who know him better as a comedian. This film introduces Tina Louise [Tina Blacker, b. 1934].
God's Little Acre
portrays the "other side" of Robert Ryan, and his acting so fascinated/entranced me that I had to acquire the DVD on the Geneon label [
www.geneon-ent.com
].
If you are—or not—a Robert Ryan fan, you should see this film, which will no doubt enhance your liking of the actor.
Of Ryan's personal life, on March 11, 1939, he married Jessica Cadwalader. They had two sons—Cheyney, a research fellow at Oxford University and a Professor of Philosophy and Law at the University of Oregon, and Timothy "Tim"—and one daughter, Lisa. They lived in Manhattan's famed co-op, The Dakota, at 72nd and Central Park West and eventually sublet the apartment to John Lennon and Yoko Ono.
Robert and Jessica remained married until her death from cancer in 1972. He died from lung cancer in New York City the following year at age 63. [Wiki]